Create Your Signature Course
Scale your business with a profitable group program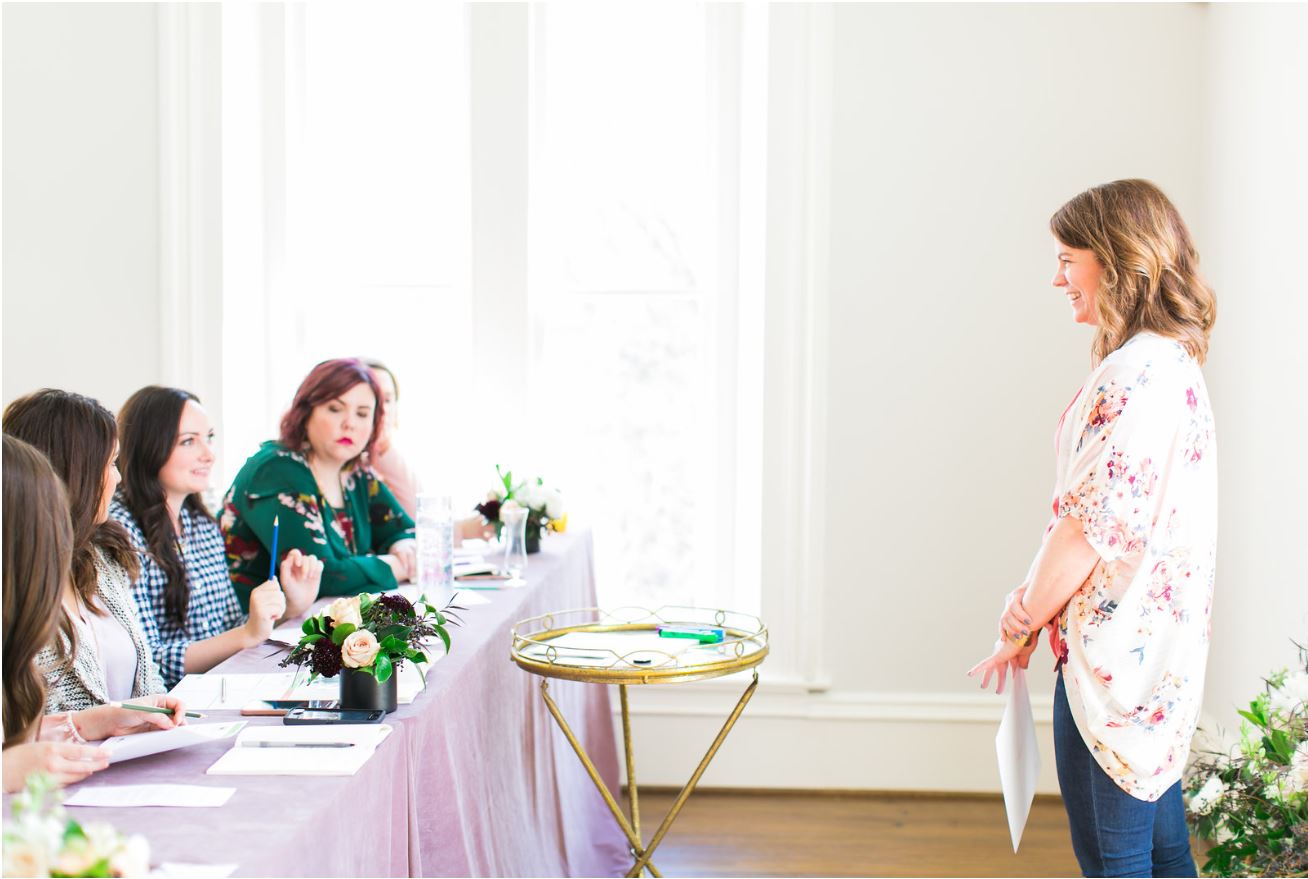 Create Your Signature Course gives you the tools you need to
change more lives + earn more money with a group program.
What if you could …
Package up what you know and do into an A-to-Z process, one that you could then teach others time after time?

Charge more for what you know and get paid for it, even in a noisy world of numerous online course offerings?

Overcome your teaching fears and be able to say "I can do this!" complete with fist-bumps from learners whose lives were impacted because of what you taught?

Have an A-Z blueprint in all things curriculum-building so that you can get back to the art of being passionate about what you do because no one ever told you being an entrepreneur meant THIS many late nights doing 1:1 work?

Build a sustainable and thriving business with a brand centered on y-o-u?
You KNOW your business needs to scale,
but do you know how to scale well?
Maybe you've thought of creating an online course, but quickly become overwhelmed—how do you figure out how to teach someone? In an ideal world, you'd seal the deal with your learners and take them from clueless to confident—and they'd sing your praises about how you transformed their lives (how very fabulous of you … that's what it's all about, right!?). You'd wrap up a workshop, small group coaching program, retreat, or course with tears in your eyes because you love this dream job of yours.
But pause—that's not happening quite yet.
If anything, all you have is a dream of educating others with what you know, but ZERO idea how to build a curriculum that students would actually love. And there's not exactly a whole lot of time to research how in the world to create a signature program—you're covered in 1-on-1 work for clients.
It's not that you're not grateful for the chances you have to get paid for what you love … something's just drilling at you: If you could just hack a system to hand over what you know to someone else, you'd "teach a man to fish," so to speak.
You'd make more than just a dollar. You'd make a difference.
I'm Jeannie Sullivan, and I built Create Your Signature Course for women just like you.
Because knowledge is big business. I've spent my career working with large corporations, non-profit organizations, and Fortune 500 companies to create learning experiences.
Then, when I left my corporate gig to become a business coach, I saw women just like me: I saw lots of fellow female entrepreneurs in my circles, except they were completely overworked and exhausted.
So, I stepped into the "teacher's teacher" label I've been called, and now?
I'm handing over my exact system on how to build your signature curriculum, so you can distill your genius, scale what you know, and grow your business with each successful learning experience.
Create Your Signature Course is my complete, 6-week system to
setting up a sustainable curriculum so you can work less, and live more.
But, be forewarned.
This isn't just any "how to create your online course" course (so meta). No way.
You see, your personality impacts your business, and maybe creating umpteen lessons and slide decks and videos and worksheets isn't, well, you. Maybe a live, in-person workshop or retreat is more you. Maybe a small group coaching experience is more you.
Whatever it is, Create Your Signature Course will meet you there—and help you build the curriculum to transform your learners, whatever the learning vehicle you choose.
We'll be covering the goods like:
What teaching style suits you

How to create a learning-based business plan

Distilling your genius to the bare essentials

Content organization techniques

How to teach your learners anything

How to build accountability into your curriculum

Implementing templates that brand your learning experience

… and then some!
From your program objective to teaching styles 101, we'll take it back to the start here (and even if you've lead workshops and trained others for years, get ready to learn nuggets that will start giving clarity to turning your passion on and giving your students an unreal experience).
Create Your Learning-Based Business Plan, so that you set a revenue goal that supports your desired business growth.

Design Your Learning Canvas, so we can get clear on who your ideal learner is, and figure out the experience you want to cultivate for them.

How to identify your transformation target for your program, so you can start with the end in mind.
Here's the thing: we—as professionals—are sometimes so ingrained in our fields that it takes a newbie to ask questions that lead us back to the mind of beginner. Let's get straight back to basics—my goal here is step you back into the mind of your learner.
A guide to Distilling Your Genius to the Bare Essentials—the tools for this? Reflection, curation, and reciprocity. We'll leverage each of them this week!

My Content Audit Workshop: get ready to identify existing content you already have and see what can be repurposed for your program … so you DON'T have to reinvent the wheel.

My Favorite Secret for Articulating Impact—this tool helps you explain what your participants will walk away from you with … so you can sell the outcome with confidence.
Time to talk teaching: from igniting genuine curiosity to consistently engaging learners, you'll walk away from this module with a better grip on quickly being able to assess your content and how to teach it … plus, you're one step closer to getting your program packaged up!
Content Organization Techniques, giving you an outline of just the right way to translate all that genius we pulled out in Module 2 into a system… one that you can explain to others

My Learning CURVE Map so you have a watch-list of sorts to turn to before you arrange your content for maximum learning engagement.

How to Teach Your Learners Anything—this lesson will instruct you how to apply that CURVE map so you're clear on how to build excitement into your curriculum and never make your students feel like they're being taught—instead, they'll be engaging right alongside you.
In a dream world your learners would take your curriculum and completely transform, right? Well, there are a few more things we need to do as educators to actually inspire change—let's talk through those now, so your students can TRULY go from Point A to Point B!
I'm sharing how to get clear on How to Inspire Learners to Change—because I honestly believe you inspire change, you need to help them first find clarity and drive to take action, and I want to teach you to do the same!

The Accountability System, so you can create a structure to keep your learners moving forward.

How to Implement Feedback Loops, a quick training in creating ways to communicate with your learners: I'll tell you why it's a way to demonstrate your commitment to their success, and coach you through increasing engagement.
People don't always remember what you say or do, but they remember how you made them feel … no pressure, right? (WHEW!) In this module, you'll learn how to cultivate a learning experience that's a reflection of you and your brand.
A training I think of as my From Registration to Completion Power Plays: here, you'll design and implement a fabulous course experience that takes them from that first assignment all the way to mastery.

Tech Trainings: Get access to my recommendations for supporting an online experience, because I don't want you to build "just another online course" and instead choose the best tech fit for your tribe.

How to Create Purposeful & Beautiful Design, so you can have a branded look and feel of your materials and media assets—even if you only ever interact with your learners in a digital format.
For a long time, I resisted the idea of marketing—I didn't want to be THAT online marketer (you know the one I'm talking about). Instead, I've learned how to extend an invitation authentically and truthfully, and in this module I'll show you how to fill up your program without ever feeling "salesy."
The Why Behind the Invitation, because I want you to put aside your preconceived notions about educational programs and marketing, and start to see it as a positive thing you can do to serve your future learners.

My guide to How to Create a Promotion Strategy, so you can start inviting learners to participate in your program--I'm not an online marketing guru OR special snowflake, I just have a efficient, well-oiled system, and I want to share it with you, too!

Why I want you to show up on video, too: You can get comfortable with things like webinars, and I'll show you how to do this with my Designing Your Course Preview Webinar training.
PLUS, you'll also get access to all of these resources…
6 interactive, video training modules (30 minutes each) that you can follow along with your workbook and pause as you take action during each one

6 weekly workbooks to hold your hand as you *actually* make progress and are ready to pilot your program before the end of our six weeks and generate learning-based revenue right away

More than 100 pages of actionable takeaway PDFs ready for you to print out and mark up with your insights and ideas

Access to our private Facebook community, so you can swap ideas, presets, and tips with other curriculum creators … and get instant feedback on any question you may have

Pop-up live coaching sessions and co-working with other members of our online community
Oh wait—want some more? Here are your BONUSES!
How to Break Free From the 1:1 Client Trap, a case study workbook to help you shift from trading dollars for hours and build out a sustainable business plan that includes your new educational programming as a revenue stream.
The Course Launch Checklist, so you can pull that hot tea out of the microwave and curl up with a simple list of everything you need to supporting your learners from Day One!
Exclusive Access to My Toolbox, because I know you're a smart cookie, but I also know that you want to skip the tech hunt—here, I'll go beyond just the tools I use for learning development, and take you behind the scenes on everything I use to run a six-figure consulting business.
And oh so much more … but I'll stop for now—otherwise, I'd have you scrolling for days ;)
Design Your Course
Together we'll define your course topic, sketch out your signature process, and design a curriculum that delivers on your promise.
Facilitate a Pilot
You'll bring together a small group of paying learners, facilitate your course, record your content, and get testimonials.
Package + Polish
You've proven your design and earned revenue from your course. Now we'll launch a sales process to fill your program.
100% of participants who have completed + launched their courses through this program are profitable!
And, a little more about me…
Hi, I'm Jeannie!
Hi! I'm Jeannie, a learning strategist and business coach. I worked for years design learning solutions for big businesses like Wells Fargo and Microsoft, as well as several other Fortune 100 companies in the tech industry, pharmaceutical supply chain, and manufacturing.
And now? I want the same thing for you, so you can transform lives with what you know.
I show women like you how to distill your genius into a repeatable curriculum, so you can change and impact others—and maybe get a break from so much 1-on-1 work along the way.
I run a six-figure consulting business from home while raising two kids and juggling life. I'm head-over-heels for what I do, and haven't been called a "teacher's teacher" for nothing: I'm constantly fascinated with the human understanding process, and it's a dream job to get to show others how transform the lives of those around them.
Let's get your genius out in the world with a packaged, repeatable, and systematic curriculum, so you can get a little more margin!
Kaitlin Holland, creator of The Planner's Retreat
"Going into our sessions, I thought the only way to create a course was to spend hours behind a computer, writing scripts, memorizing talks, and creating worksheets.
Jeannie gave me the freedom to create in a way that was different than what I saw everyone else doing, but was fun and easy for me! Instead of getting lost in the details of writing, I verbally created a course, had the notes transcribed, and voila!
My course was created. It was exciting, authentic to who I am, and so doable. Working with Jeannie opened my eyes and I am so grateful for her guidance and expertise!"
Christina Ambubuyog, creator of Ignite Your Intuition
"Now that I have worked with Jeannie and participated in her priceless program, I have truly learned important tools and techniques to help me design transformative, sophisticated and professional workshops.
I can now say that the ideas I had swimming in my head have been implemented with her format that is step by step and easy to follow and I've got a fantastic workshop I feel confident and proud to teach.
Plus the ongoing and warm-hearted support of Jeannie and her enthusiasm aided in my growth and learning tremendously."
Jessica Rourke, creator of Engage: A Business Blueprint for Wedding Planners
"I was pregnant with my first daughter and freaking out that I wouldn't be able to balance business and motherhood!
My signature program, Engage, helps aspiring wedding planners launch their businesses and supports my business with passive revenue giving me more time to spend with my kiddos.
If I didn't have Jeannie, I would've been completely overwhelmed, especially all the technology that was needed to get everything up and running. It was a lot, so I'm so glad I had Jeannie!"
Buyer's remorse keeps you up at night? No worries! It's done the same for me, and I don't want that for you: enjoy my 30-day, risk-free happiness policy, because if you're not happy, I'm not happy.

If you dig into all your modules and content within those 30 days, and still feel like there's no way you can apply these systems to your business, I'll buy the program back from you. Click here to read full details!
How to know if you're a good fit for Create Your Signature Course…
You're an entrepreneur or independent consultant passionate about your opportunity to serve clients … you just weren't expecting free agent life was going to leave you jailed to your Mac for late nights doing 1:1 client work. You need to be able to scale your genius quickly, so you can get back to living life away from your computer.
You've been thinking about launching a course or program, and know you should probably figure out how to teach, but heavens, HOW do you do that? You don't have time to take a university class—you just need the psychology of learning + the how-to system to packaging what you know into a curriculum.
Teaching doesn't terrify you--you've been working in your genius for a while--but #TBH, you know there's more to education than the cheesy Facebook ads from online course creators. If you could build a curriculum authentically, you'd know just whose lives you'd transform with what you know.
You just *know* that if you could secure a signature curriculum--from how you do step 1 to mastery--you'd be able to scale your business much smarter Because right now, you're one smart cookie stuck on top of a mountain of content and skills, but if you could nail your signature program, you'd even be able to up your prices (whoop!).
You've fielded one-too-many "no, I don't have a workshop/course/tool/DIY option comments from your audience, but you can't help it: you desperately want a work-life-balance, too, and right now, building out a new way for people to work with you hasn't been high on the to-do list. You need a swipeable system!
What others have asked before joining Create Your Signature Course
Do I really have time for this?
Let me guess: you're surrounded by client file folders and your computer desktop is littered in screenshots—while your coffee mug is cold: I get the constant shuffle of 1-on-1 work, and that's exactly why I want you to consider this as tool to help you scale what you do. If you can commit to giving me just over a month of your time (you'll even learn hacks in my toolbox that you can apply to your business to be more productive!), I'll shoot you straight on packaging what you know and do into a sustainable system. My goal and my heart is to give you your life back!
Is this just for course creators?
While you'll hear some language pop up during the 6 modules about "courses," know this: we've had scores of retreat leaders, workshop creators, live event trainers, and group coaches come through the program over the years in addition to online course creators, and they've see big changes as well. The goal here? We'll figure out the format of communicating your curriculum in the way that BEST serves your personality. If that's an online training program or course? Great! If it's a small, in-person retreat? Sounds great, too!
How long do I get access?
How's lifetime sound for ya? (😉) It's all yours once you're inside, and you can pull up the replays and lessons whenever you need a boost or a refresh—and when you're ready, use them to create a new course or educational program. You can follow my recommended six-week plan or move a bit slower if that's what you need. I know you have family needs and other things to tend to, so I want to make sure you have access to these tools forever.
Do you offer refunds?
I have a super tight return policy—but it's only because I want to make sure I'm attracting dedicated, serious curriculum builders. I have worked so hard to make this program serve you right where you are, but I certainly understand the fear in buying something you can't fully experience before purchase--that would give me pause, too! As such, by purchasing, you're agreeing to my 30-day guarantee: if you complete the first few modules of the course and aren't satisfied, I'm happy to buy the course back from you.
I have more questions, how can I get in touch?
I would love to chat with you, and make sure this is the right fit! Email me with questions!